GDD NEWS
---
August 2013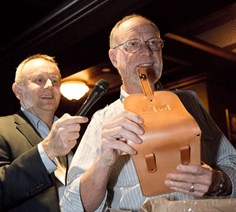 GeoPub recently celebrated 10 years of social and networking service to the geological and mining community. Geopub is a regular event held every Wednesday at Mick O'Malleys pub on the Queen Street Mall in Brisbane, kicking off from around 5:30pm. On the 28th of August, they celebrated 10 long years of weekly meetings between geologists and Guinness!
---
August 2013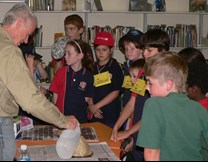 Staff from GDD recently attended Springbrook primary school as a part of the GSA's student environmental awareness day, to get the students excited about Earth sciences. Students from several schools in the area attended and they've now got rocks on the brain but we think they had a great time. Oh and the students had fun too!
---
---
GSA - QCAA Student Mineral Sets
Overview
The Geological Society of Australia (Qld) committee is currently working on a project to assemble a collection of rock and mineral sample sets for high schools teaching Earth Science to Year 11&12. It is apparently very difficult to obtain such sample set materials, and the GSA saw an opportunity for a little community service in constructing some sets for these schools.
A number of rock and mineral specimen sets are currently being constructed, with these falling into the following groups –
· Rock specimens from the three primary rock classes, along with a special set of the rocks of the Brisbane Area.
· Mineral specimens; rock-forming, Moh's hardness set, economic minerals
· Fossils
· Economic rock / mineral suites by commodity.
Each set is supplied in a plastic sectioned box with fixed dividers.
Currently each set will contain the following –
· Mineral or rock specimens.
· A list of the specimens, with short descriptions and source, inside the lid.
· A label with the rock set name, the GSA logo and name along with that of other organisations who have assisted in the supply of specimens or in the preparation of the particular set, and a list of the specimens in the set, located outside the lid on the top of the box.
· An accompanying short booklet (possibly…) containing a more detailed description of the specimens, the source location where known, along with acknowledgement of the GSA and other organisations who assisted in the assembly of the set.
Current Rock Sets Content List
Igneous Rocks

RS01

Standard Set

1

Rhyolite

2

Andesite

3

Granite

4

Basalt

5

Diorite

6

Gabbro

7

Pegmatite

8

Tuff

Sedimentary Rocks

RS02

Standard Set

1

Shale

2

Siltstone

3

Sandstone

4

Coarse Sandstone

5

Conglomerate

6

Greywacke

7

Limestone

8

Banded-Iron Formation

Metamorphic Rocks

RS03

Standard Set

1

Slate

2

Phyllite

3

Hornfels

4

Quartzite

5

Marble

6

Serpentinite

7

Amphibolite

8

Gneiss
Current Mineral Sets Content List
Rock Forming Minerals

MS01

Standard Set

1

Quartz

2

Orthoclase

3

Plagioclase

4

Muscovite

5

Biotite

6

Actinolite

7

Augite

8

Olivine

9

Calcite

10

Apatite

11

Serpentine

12

Gypsum

Mohs Scale of Hardness

MS02

Standard Set

1

Talc

2

Gypsum

3

Calcite

4

Fluorite

5

Apatite

6

Orthoclase

7

Quartz

8

Topaz

9

Corundum

10

Diamond

11

Kryptonite

12

Naquadria

Economic Minerals

MS03

Standard Set

1

Bauxite

2

Chalcopyrite

3

Malacite / Azurite

4

Molybdenite

5

Cassiterite

6

Sphalerite

7

Galena

8

Magnesite

9

Pyrite

10

Haematite

11

Magnetite

12

Mineral Sands
Please note – Content lists are subject to change depending on availability of specimen types
Enquiries - Email - tony@gdd.net.au Phone – (0408) 152-256